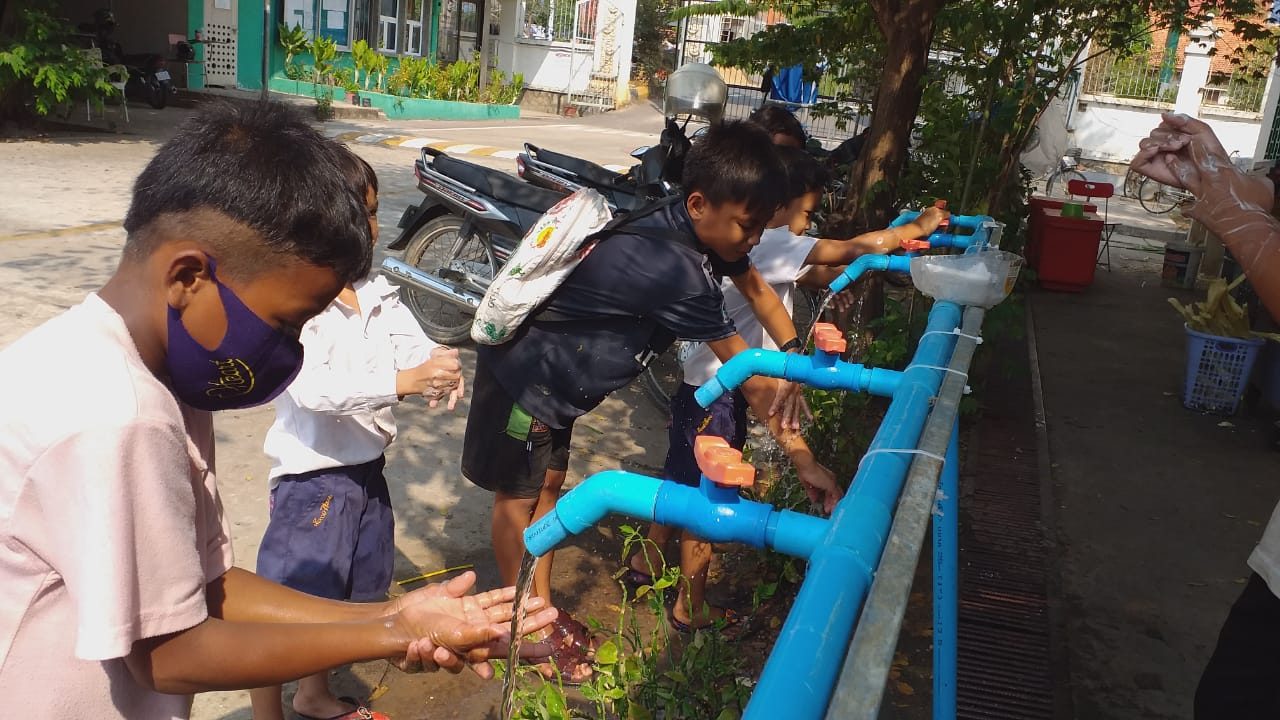 Protecting the most need during Covid19
The coronavirus disease (COVID-19) pandemic is affecting everyone around the world. Nobody can say that he or she is out of this world now.
In Don Bosco we care for children and youth, especially those more in need. In Don Bosco Kep we attend daily for 320 young people doing technical education and 150 children who are member of the Don Bosco Children Fund. All of them are at home now, but we are keeping them busy with online programs to continue their academic work and to prevent them from getting contaminated.
They belong also to the most vulnerable. Many of them living in very poor conditions such as lack of sanitation, enough food, enough health services.
We think on them and we thank you for helping us in this moment. If you help Don Bosco, it means you help them, because Don Bosco is about them.
We joint global efforts to make sure that the most vulnerable stay well and protected during this pandemic:
1. Keep children healthy
We want to be a point of reference if there is any big outbreak of the decease in Cambodia. First, we think in a population of near 500 children and youth linked to Don Bosco and living in poor conditions. Help us to get enough conditions to provide to their families in order to protect their health.
2. Sanitation
Many of our children live in areas with lack of enough conditions of sanitation, water and hygienic. We are following all their cases and making efforts to reach to them and cover all their needs.
3. Right to education
So far, since the Cambodian government closed the schools and send children back home to avoid contamination, we were firm on our commitment to guarantee that our children and youth continue studies from home. We have near 500 students following the academic works and it helps also to keep them busy, avoiding unnecessary activities outside their houses and thus protecting from contamination. Thanks for supporting our program of Extraordinary Scholarships during the time of pandemic. It helps us to keep our work for them.
4. Support families
Poor families suffer a lot during this time of pandemic, because they need to look for resources to survive. If they do not have economical conditions, they will tend to leave home and look for, putting their own lives at risk and it includes the health of their own children. Help us to provide for meals for our students at home.
What Don Bosco Kep is doing?
We support the rules and recommendation of the Cambodian government to prevent contamination, as well as its online program of studies for children and youth. Don Bosco Kep has remained open during this time, but working from home.We are promoting all protection recommendations among our students and teachers through the Internet.Students know that if their families lack food or they have a special need, they can contact Don Bosco immediately to see for solutions. Donors can send support to Don Bosco and it becomes a point of reference for the most in need. We are checking for the conditions of all our students by Internet, phone calls and other means to guarantee that they are safe and being sure they need something. Please for any donation destined to support Don Bosco children and youth, please use the following account details:Name of bank Acleda Bank Plc. Kep BranchAccount number 3803-01-041854-1-8Address of bank Damnah Chang'aeur Village, Sangkat Prey Thum, Krong Kep,Kep Province, CambodiaPostcode/Area code 1149Swift code ACLBKHPPName of account holder Don Bosco Foundation of CambodiaAddress of account holder Thmey Village, Sangkat Prey Thom, NR 33A, Kep City, Cambodiaor P.O.Box: 9801, Kep City, CambodiaGet in touch with us to coordinate any effort: management@donboscokep.org